So Kinkies... I've told you all time and time again that I love accessories and natural hair t-shirts. Whether rocking both with some jeans and heels or some flip flops (that's the kind of girl I am), there's nothing better than those two items!! My favorite types are the ones that scream creativity and personality. And that of course brings me to talk about my 'Kinky' t-shirt from Now Ain't That A Stitch! It debuted a few months ago in my pictures for the
NJ Hair Care Expo
, where sooooo many people stopped me to tell me how much they loved my shirt.
What's Now Ain't That A Stitch's t-shirts made of?
Mine is made of 100% cotton. I am not sure if all shirts sold are of the same or similar fabric/material.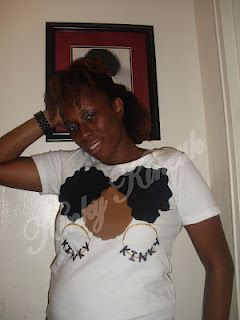 What's your first impression of
Now Ain't That A Stitch's t-shirts
Kinky?
I love, love, love it! It was a comfortable fitting shirt that I don't foresee shrinking. I like how it fits; however, it may also look great if it was made on a fitted tee. I love that you can customize the skin tone of the face, the type of hair, as well as the earrings. I think these shirts are awesome for big, as well as little, natural beauties. I would totally get one for my little princess if they came in sizes for little girls (hint, hint)!
As noted above, I had gotten a lot of compliments on the shirt, and I can totally see why. A lot of the shirts geared towards us naturals have iron-on patterns, nothing really unique and creative about them at times. Now don't get me wrong, there are SOME shirts out there that are creative, unique, and worth the money (I own a few of them); however, there are also a lot that aren't. Besides painted natural hair shirts, I have never seen anything close to personalized creativity than the shirts from Now Ain't That A Stitch! The owner doesn't just iron or stamp on the pattern, she sews the fabric on to each t-shirt, not only may this take time, it also seems that she puts both effort and love into each and every shirt. <--- my opinion/perspective.
I say go check her out and show her some love. Tell her that I sent you and if you order a shirt, let me know your thoughts!! :-)
Where to buy:
Now Ain't That A Stitch
Feel free to also check me out on Facebook,
Kinky Kinetik
, Twitter,
Tweet Kinky
and YT,
KinkyKinetik
.
~Keep it Kinky~
Disclaimer: I was NOT paid to do this review. The above review/opinions expressed was based on MY experience using the product. Kinky Kinetik is not affiliated with Now Ain't That A Stitch and is thereby not responsible for your experience with the product.