Hey Kinkies! So we have completed our very first castor oil challenge. Yayness!!!! Nine Kinkies, including myself, decided to use castor oil and see if it aided in hair growth. The original post, with the challenge details, can be found
here
. Over the last few weeks, I've seen some great growth by those that participated; however, I was only able to choose one winner.
How did you choose your winner Kinky?
Participation played a great part in picking the winner. I felt that the winner should be one who always was on time with their updates and appeared to not only have used the product, but also achieved results. So, without further ado, the winner of this challenge is...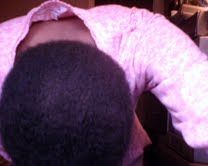 Here's what Tiffany said during the last check-in:
1. Throughout the challenge, did you consistently use the CO/JBCO the same amount of time (frequency) each week? YES, 3 TIMES A DAY.
2. Have you continued to notice changes in your hair (look, feel)? THE SCALPY LOOK MINIMIZED A GREAT DEAL. I ACTUALLY FEEL HAIR. :)
3. Given your results, will you continue to use CO/JBCO? YES BUT I WILL SWITCH TO REGULAR BLACK CASTOR OIL.
4. Have you had any adverse reactions to using the CO/JBCO? YES, I EXPERIENCED ITCHY SCALP.
5. Any final thoughts, suggestions, and/or comments? I WANT TO THANK YOU FOR HOSTING THIS CHALLENGE. I'M SO IMPRESSED WITH MY RESULTS AND I'M GLAD I DECIDED TO DO THIS CHALLENGE. IT WAS FUN INDEED AND IT'S SUCH A GREAT FEELING TO SEE MY HAIR PROGRESSING WELL! HUGS.
Congratulations Tiffany, please email me your address either on gmail or Facebook inbox and I will be getting out your prize shortly!
Of note, while I didn't have as much participation as I hoped, I am thankful for those that viewed the posts, indirectly participated (they did not enroll in time) and for those that continue to support me. I have thoughts of another challenge and will start only if I get enough participants. :-)