Hey Kinkies!!
So most of you may recall that I went to an event last summer called Supernatural:The Event. I had an amazing time there and was able to see Supernatural: The Play at it's debut (and was able to meet Kim Coles - yayness). Well, the play is coming back to the East Coast and I had the awesome opportunity of chatting with one of the playwrights, Candace Kelley.
So just to tell you all a little about the play, Supernatural: The Play, which now features Kim Coles, is funny and insightful while exploring the lives of seven women who are forced to confront their definition of beauty in an image obsessed world, leading them on a natural hair journey and finding themselves. Some are describing it as the Vagina Monologues - but about hair. Since it's debut in 2012, Supernatural: The Play, has resonated with theater-goers through tears and standing ovations for its universal themes of self-acceptance, triumph over tragedy, and redefining BEAUTY!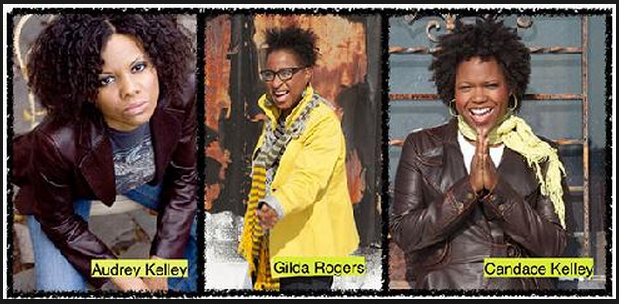 Kinky Kinetik: How did you and your fellow playwrights come up with the
concept and idea to write Supernatural: The Play?
Candace Kelley: Actually, years ago Gilda Rogers, one of the co-writers of the
play, said that I should do a hair play. I recently reminded
her that she was way ahead of her time. I let her know that
she planted that seed years ago. I had met so many people
along my natural hair journey through workshops and
my natural hair care line, Curl Prep, and these women had
phenomenal hair stories. I am a journalist by trade and
since I write, I thought back to Gilda and she and I sat down
about two years ago and started constructing this. My sister,
Audrey Kelley, who is a writer and producer Hollywood re-
tooled and re-worked the play and re-tooled again. She made
it so that it [the play] would work for the stage. She gave it
the glue from word choice to proper character development.
It may have fallen apart otherwise!
KK: When I saw the original play, it touched me. I laughed and
I cried. It allowed me to see different perspectives of how
some women live with being natural and the effect it has
on their life, if any. What is it that you want people to walk
away feeling, or thinking, after seeing the play?
CK: I want people to walk away and feel like their stories matter
and that they belong, because they do. So many women I
meet think that they were in a vacuum. They come to see the
play and have a common experience. I want women to know
that their story matters enough to be shared. You don't have
to say anything to a natural haired woman walking down the
street because you know there's a story behind that hair. It's
unspoken yet it's loud and clear. I remember working at
Court TV and being told that my hair was inappropriate for
the workplace. That was in 1997. And we all have stories but
it's good to hear them spoken aloud on stage and embraced.
KK: I saw the play when it first debuted at Crossroads Theater, and at that time it was
awesome. I see that you've added new cast members to
perfect the play. I believe that at that time I saw it, there was
five roles and a host. How has the play changed since it
debuted?
CK: Part of the process with a play is showing it in front of an
audience, getting feedback, and making changes until you
get the product you want and we now have that product. One
change is that we added a Sociologist who sets the stage for
why natural hair is so important in 2013, the history behind
our hair story, why so many women rejected it, and why we
are here now. The host, who is considered a character, also
has a story. Since you saw it, a lot has changed.
KK: Do you foresee making any additional changes to the script
and/or characters?
CK: No, but you never know. When it showed in LA on March
25, 2013, people really loved it. What's more interesting is
that there were people there that are not African-American. T
heir comments were especially interesting because
if you don't know about natural hair and there's no back-
story to it, it may be hard to understand. Some suggested to
change part of the play but we had to determine if there was a
need to change it. We had to ask: is there a need to change
some stories because of the limited experience of some? No.
KK: So Candace, what role or character do you identify with most and why?
CK: When it was written, the character that leads you down
memory lane would be me - simply because of the fact that
I have met so many people and heard so many stories during
my natural hair events. Women would get up and do what
I call "testify" about their hair journeys. I remember one
woman saying about her relaxer, "I've been clean for eight
months!" I meet women with cancer, bi-racial women, and
more who had the most compelling stories about beauty
and acceptance. So there is a character who shares my e
xperience. While we don't have the exact same story, I
identify with her.
KK: You now have Kim Coles as part of the play, which I think is
amazing. She's funny, relatable, and warm. What role is she
playing and how is she doing with that role?
CK: She's the one that walks you down memory lane to meet
an intriguing cast of women from all walks of life, but she adds "
Kim" to it. As with her journey, she has met a lot of people
and this made her are real solid choice to be in the play.
She adds her own spice to it. She "Kimifies" it and that
works. As part of some of her stand up routines she talks
about natural hair and so we gave her some liberty. And I
also want to add that she is hilarious just like so many women I
meet who can joke about their broken edges or the hair style
that kept them from going to work!
KK: Well that sounds awesome, I'm sure it makes the play all the
more funny and relatable. Are there any plans to take the
play beyond LA & NY, perhaps to other countries?
CK: That is the goal! Our first goal is to give it a home base for
a while, to generate publicity. I want to travel around the
country, Atlanta and Chicago to be specific. I want to see
where it goes after the showing in May. We are inviting a lot
of people who may see it and want it to go further. I think
women want to see other women who share the same story.
KK: Aside from checking out the play, what advice would you give
women struggling with accepting their natural hair?
CK: I
would say that if women surround themselves with people who look
like themselves they ,will understand that their hair is just
fine. A lot of us grew up and from our surroundings we were
told our hair was not fine. Now we can feel and believe that
not only is my hair fine, but there are options and there are
others like me. Natural hair events are also great; it's where
some women get the wherewithal to embrace their hair.
KK: You're getting rave reviews about the play. Does the amazing responses and reviews of the play seem
surreal to you? How does it feel to know that your play is
impacting others in a positive aspect?
CK: It does because when we started writing it, I said give it a run
and see what happens. And when women started crying
in the audience when it debuted at the Crossroad Theater,
along with the vocal responses, I asked Gilda, "What is going
on?" I saw a few people in the audience crying. And there
were a lot of "amen corners." Someone said, "Oh my god!"
At one point I was taken aback and then we did it again and
people were again touched. It does seem surreal. On the
other hand it's a lot of business! The numbers and contracts
bring me right out of surrealism, let me tell you. Like do you
have the down payment? (laughing) But still, specifically at
Crossroads Theater, it was a surreal moment.
Hundreds of women responded to the casting call and when
we spoke to a lot of them, they thanked my sister, who also
directs the play. They said how thankful they were to be able
to play real characters, especially given that it's hard as a
black woman in Hollywood to get good roles. They were
grateful that they could play characters that were not one-
dimensional or caricatures of the Black experience.
KK: Describe the play in five words or less.
CK:
Go inside my natural head!
KK: Aside from the Supernatural play and your product line, are
you working on anything else?
CK: I am managing Let Your Hair Down Expo on April 20th.
I will be hosting expos and other events
that bring natural women together. And the focus of my
events recently shifted. Through my hair events, I meet a lot
of women that are starting their own business, out of a job,
or want to do something new so with the next event, I am adding
an empowerment focus. I want to do something either about
social networking, self-leadership, or building your own
business because so many women are business owners or
have had a change in circumstance, like being scaled down. Yes,
talking about hair is important, but if I am going to be in a
room with 350 women, why not learn a new skill or do some
major networking?!
KK: I totally agree and will be there to support AND learn. So, how did you come up with the name
for the play?
CK:
I look at the title in two ways. First, the naturals that I know
and see online, they have an energy that is like a superpower.
Their sense of selves and pride they have is immeasurable
they are indeed Supernaturals. How I also see the title is that
people use the word supernatural to describe that which is
beyond, and something you can't see, and when it comes to
natural hair, there is so much that is beyond what the eye
sees. We might have braids or twists or even a relaxer, but
it goes way beyond that, it's more than what we see. It's like
our tag line says "we all have a hair story."
KK: Well Candace, I thank you so much for the opportunity to
speak with you. I wish you success beyond your heart's
desire with your play, and beyond.
Kinkies, be sure to check out Supernatural: The Play,
as we ALL have a hair story. Also, make sure you stay tuned as I will be chatting it up with Kim Coles! I'm totally excited about that!
The May showings are as follows:
May 25th at 4pm and 7pm and on May 26th at 3pm in New
York! The Curl Whisper will do a natural hair workshop
called Transformations at 1pm, before the 3pm play on May
26.
Be sure to check it out and come back to tell me your
thoughts!
Visit Supernatural: The Play for
ticket information.
About the playwrights:
Audrey Kelley/
Director & Playwright
Audrey Kelley studied sketch comedy writing at Second City in Los Angeles and stand-up comedy with Judy Carter. She was selected for an Internship in Writing and Development with Tri Destined Studios in Los Angeles working closely with Gregory Anderson and ND Brown. Original written works include: I'd Never Say This in Public (one-woman show), Little Dates (a webisode in collaboration with Asia Winston) and several sketch comedy skits and stand-up comedy pieces. She wrote, produced and directed Audrey & Dre, a webisode starring Zuri Alexander and Andrew Chen which was recently picked up for distribution. Audrey resides in Los Angeles.
Gilda Rogers/
Playwright
Gilda Rogers is an award winning producer, journalist and historian who often speaks about the topic of hair history. She is the executive producer of the popular weekly television show Frank Talk that airs on Brookdale Television on Comcast and Verizon FIOS Cable stations. In that role, Gilda has showcased an array of stories that inspire, inform and entertain. A documentarian, she wrote and produced A Man and His Music chronicling the life of Ralph Gatta, a Red Bank, N.J. native and jazz historian, known as "Johnny Jazz." She is also part of the creative team for the documentary Kosher. Gilda's work has appeared on AOL Black Voices and the PBS affiliated station NJN.
Candace O. Kelley/
Playwright & Producer
Candace Kelley is a five-time Emmy nominated writer, TV reporter and documentarian. Over the past four years she has collected a myriad of hair stories that helped shaped the play Supernatural. A leader in the natural hair field, she has produced dozens of natural hair signature events to sold out audiences. Her book Coif Cuisine: Natural Hair Recipes and Side Dishes for the Natural Hair & Now was released in 2011 and her book The Big Chop will be released in 2013. Her online E-Zine Hair Candy has a huge fan base and she continues to teach Natural Hair workshops as founder of Curl Prep Natural Hair Solutions. A documentarian, she wrote and produced the film Missing. The piece sheds light on what happens when children grow up without a father. She is also the co-writer and producer of the film Kosher about an Orthodox Jewish man who became a Pentecostal pastor of an African-American church in Manalapan, NJ.
Feel free to also check me out on Facebook, Kinky Kinetik, Twitter, Tweet Kinky and YT, KinkyKinetik.